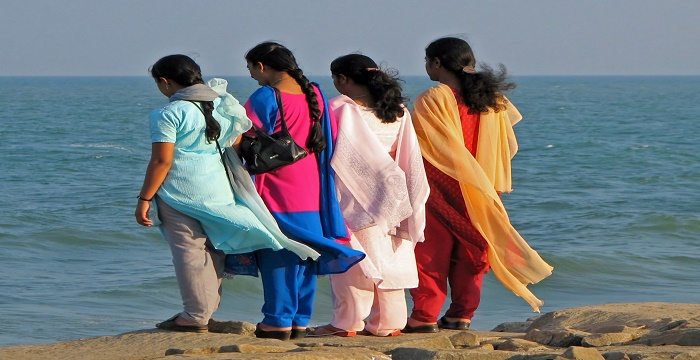 India has a rich tradition of clothing and ethnic wear. Clothing in India varies on the basis of ethnicity, climate, geography, culture and tradition of people of each region.
India is known for its diversity the all over the globe. Ethnic clothing is just one of the things that distinguish one part of India from the other. The traditional Indian attire has earned admirers from people from all over to organizations like UNESCO. The craftsmanship with which artisans create traditional dresses is really incredible. All forms of clothing are quite labor intensive and require a lot of attention to detail. Many of these art forms are dying because the cost of production is higher and few people can afford to pay the high cost of the dress. This has forced the textile ministry to come up with ways to sustain these artisans and preserve their talent and art. As every state in India is geographically different from the other, this has given rise to varied kinds of dresses and styles.
Foreign Influences on Indian Clothing
The traditional Salwar-Kurta or the Salwar-Kameez was the result of the practice followed by Muslim women to wear divided garments during the Mughal period. This dress has survived to this day and has a variant called 'Chooridar' in which the salwar is replaced by the 'Chooridar' a tapering pant with folds at the bottom.
The 'Lehenga' is another dress that had its origins during Mughal times. It was believed to be a dress that defined Indian values completely, which is probably why it has survived to this day. Even now, it makes use of Mughal era patterns and designs though it has been given many contemporary designs as well. In Gujarat and Rajasthan the variant of the Lehenga- the 'Ghagra Choli' with an 'Odhni' or dupatta still preserves its ethnicity with mirror work and embroidery. Some Rajasthani women wear black 'Ghagra Cholis' with Cowrie shells and mirror work too. During the reign of the Nawabs in Lucknow the 'Sharara' or 'Gharara' was born which was influenced by the 'Ghagra Choli'.
During the British rule, women in West Bengal did not wear blouses and covered the upper part of their body with the end of their saree. The British populace did not find it appropriate and that is how blouses and petticoats came into existence.
The Saree is one Indian dress that enjoys worldwide popularity. The UNESCO praises it as "valuable Indian contribution to the world's cultural heritage and diversity". Artisans across the country make use of locally available resources to produce sarees, which are a masterpiece in their own self. The beautiful weaves and designs on sarees makes one wonder about the creativity of these weavers. Different regions of India have different specialty and variety of sarees. Though there are several varieties, the famous ones are Chanderi and Maheshwari from Madhya Pradesh, Banarsi saree (which have brocade work), Paithan in Aurangabad district of Maharashtra has kept alive the 2000-year old traditional method of weaving Paithani sarees using pure gold threads and yarns of silk. The other types of sarees are Andhra Pradesh's Pochampally saree or PochampalliIkat, in which skillful weavers create geometric patterns in silk, Assam is home to rich golden colored Muga silk, the finest of India's wild silk sarees. Kanjivaram and Patola are also the finest silk sarees in India.
Talking of Kashmiri dresses, the 'Pheran' is what comes to mind instantly. It is a loose woolen gown which is worn by both men and women to beat the freezing temperatures of the region. It has minute embroidery around the neck and the edges.
You must have seen Bihu dancers dancing in motif-rich 'Mekhela Chador'- the traditional dress worn in the state of Assam. This dress is made from Muga silk and consists of a skirt-like lower part. The 'Riha' and 'Chador' is worn on the upper part of the body.
Another eye-catching north-eastern dress is the 'Puanchei' of Mizoram, which is cherished by every Mizo woman. It is paired with the 'Kawrechi' blouse that gives the Bamboo dance its distinct feel because of the colourful designs and patterns of the dress.
Coming to men's clothing, we find that the unstructured 'Angrakha', that was a court outfit in ancient times, has given birth to the 'Bandhgala'. It is now a preferred dress for weddings and formal occasions. It is also a favourite with politicians and the royals. Another dress that is considered perfect for weddings is the Sherwani. During weddings men can be seen donning a Dhoti or a Pyjama with a Sherwani. Sherwani is also worn on other special occasions like festivals and other celebrations. A kurta is also worn with pyjamas in North India. In fact, the Pathani suit is a popular regular wear in Patiala and the richer version is also worn during weddings. In Srinagar it is also known as 'Khan' dress.
The Dhoti-Kurta is the traditional wear of men in villages mostly in south Indian cities. It is an unstitched piece of cloth in plain white, coloured or checks, which is wrapped around the waist. It is known by different names in different parts of India like 'Mundu' in Malayalam, 'Dhotar' in Marathi, 'Panche' in Kannada and many other names. The Dhoti is worn almost all over India but the form may differ.
These dresses carry with them our age old traditions that keep us connected to our roots and make us enjoy our vibrant cultures.