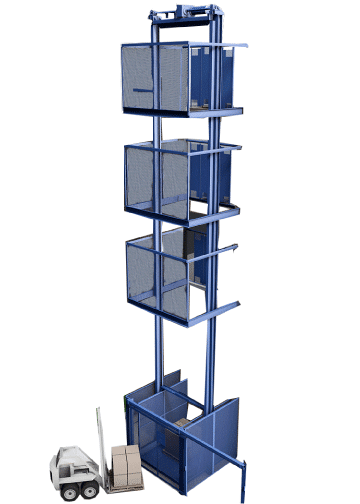 PFlow Industries is the leading manufacturer of vertical conveyors that lift materials from one level to another far more efficiently, safely and cost effectively than other methods. 
Our American-made vertical hydraulic lifts and chain-driven  mechanical lifts are used in a wide variety of material handling applications throughout the world – efficiently lifting and lowering items ranging from 10 pounds to more than 100,000 pounds.
Users highly value the dependability of our VRCs. There's less down time when you install a mechanical or hydraulic vertical lift from PFlow. And when you need parts or service, you can count on a very quick response from a team member.
We remain fully operational during the COVID-19 situation. Read more.
The Best Engineering for Superior Vertical Conveyors
Since our founding in 1977, PFlow Industries has led the vertical conveyor industry through superior and innovative engineering, by helping shape safety and regulatory codes governing VRCs, and through our focus on custom solutions for material lifting requirements. Our engineering team – by far the largest in the market – will solve any conveyor vertical lifting challenge.